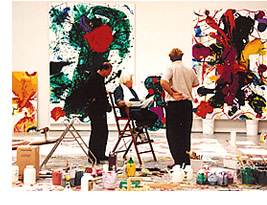 COMPANY PROFILE

Sam Francis Prints B.V. owns the world's largest collection of lithographs, etchings and screenprints by Sam Francis. The collection was purchased directly and in cooperation with the Sam Francis Estate. Our aim is to actively market this collection of prints worldwide over the coming years from our company in the Netherlands.
Our core business lies in contact with galleries worldwide. Most of these galleries already know and value the work of Sam Francis, and may even have worked with him for several decades. From now on Sam Francis Prints B.V. is the primary contact for inquiries and advice on all Sam Francis prints.

We always answer all queries personally.
Email: info@samfrancisprints.com